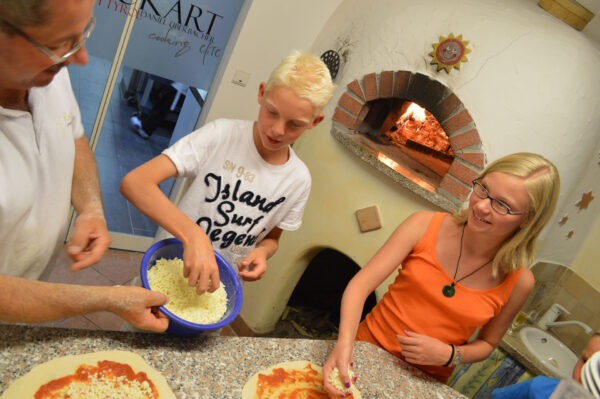 A stay in our Hotel Pfeiss, among the mountains of South Tyrol, is an unforgettable experience above all for the children. Every day, the little guests can live new and enchanting adventures in the nature and have the possibility to explore, step by step, a variegated alpine world. In our wide garden, you can find a park games with sandpit, seesaw, a wonderful tower and a game house. Our garden is the perfect place to play table tennis or soccer, while the parents take a rest on the meadow.
A special experience for the children is the weekly tour on the vintage tractor. Every week, the owner Paul dedicates a little bit of his time to the little guests and leading them to do a tour on the old tractor.
Furthermore, at the Hotel Pfeiss, you can enjoy tasty pizzas and participate at the pizza's evenings every week. Here, each little guest will prepare his favorite pizza. On request, we organize also kitchen parties, where you will have the opportunity to look behind the scenes. In fact, you will observe the chef to the work and discover how are created the tasty dishes of CookArt.
For those who love the activities in the open air, near our Hotel Pfeiss there are numerous excursion paths for the families! Here, in Lana, extend easy paths, quiet walks across the valley, cultural paths and the so-called "Waalwege", paths along the ancient irrigation canals.
A few minutes of car from our hotel, there are the most beautiful high mountain road for the families, for example in the Ultimo Valley, on the San Viglio Mountain or below the Ivigna Mountain. To conquer together a mountain and to enjoy the extraordinary natural views is a special experience for the children!
The hikes with the whole family are an ideal opportunity for parents and children to discover and to know the surrounding alpine world in playful and amusing way. Enjoy the flora and the fauna of the Dolomites!