The Hotel Pfeiss is located between the intact and luxuriant nature of the village Lana. You will enjoy this magnificent natural and quiet world directly in front of our hotel.
Our wide garden is a green oasis of rest and recreation. Far away from hectic crowds of people or loud streets you can enjoy the peace of nature and forget the worries of everyday life surrounded by green trees and high mountains.
Furthermore, our hotel offers you a fantastic playground with a playhouse for children. Also, the hotel has an amazing and refreshing swimming pool, where we pay great attention to sustainability and environmental awareness – the pool in the garden is heated using solar energy. A perfect holiday full of pleasure guarantees our hot whirlpool with a pleasant 35 degrees Celsius.
---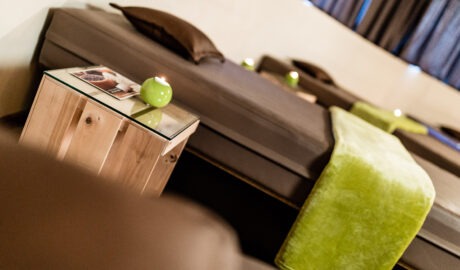 The Hotel Pfeiss offers quiet and relaxation: Here, you will reinvigorate the body and the spirit and will rid of the stress and the frenzy of the daily life. Our wellness area is an oasis of relaxation with a cozy atmosphere and completes the pleasure's offer of our hotel.
Our relaxing sauna gives new energies and stimulates your senses. Sweating in the agreeable warmth of a sauna give new energies and regenerates body, mind and spirit, reinforces the immune system, stimulates the circulation and slackens the muscles.
Active and balance in our fitness room with solarium – Here, you will relax actively, rid the head from the thoughts and find your inner peace again.
---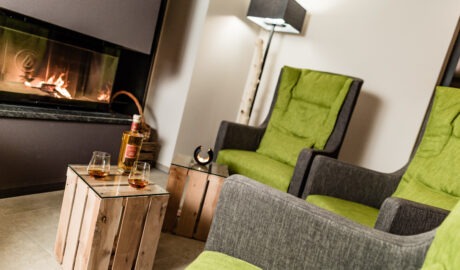 After our culinary highlights, you can stop at our new lounge bar and conclude the day in a perfect way. Tyrolean dinners, summer BBQs, dancing evenings and kitchen parties, where you will have the opportunity to look behind the scenes, will make unique your stay. The lovers of the good wine will remain enchanted by the wide choice of regional and international wines of quality of our new cellar. Here, are proposed also tastings and presentations. You will enjoy our local specialties in the cozy "speck ham room", for a first class gourmet experience.